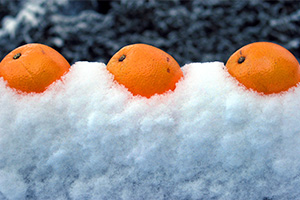 Posting Date: January 9, 2018
Posted by: Chris Barbato, Sarasota, FL Branch Manager
If we've learned anything so far in a still very young 2018, it's that when it comes to weather, we should be prepared for anything – like snow in Florida, for example, or frozen iguanas falling from tree tops.
It's that kind of unpredictability that makes prevention so important.
Prevention means getting a tune-up for your furnace or heat pump early in (or better yet before) the season so it will work reliably when an unexpected cold snap arrives. It means protecting the investment you've made in your home comfort equipment by covering it with service plans and home warrantees. It means adopting smart habits like checking and changing your HVAC filters every month and keeping your vents clear and unblocked.
It's still early in the year, which means that Mother Nature still has a long time to throw curveballs at us in the coming months. When it comes to weather, it pays to stay one step ahead – be ready for anything in 2018!
Stay one step ahead of the weather and protect your home comfort investments with Broward Service Plans and Home Warrantees. Contact us today to learn more!