Indoor Air Quality
A home ultraviolet germicidal filter will destroy harmful bacteria at an affordable cost
The moisture and dust that exists inside your home provides a perfect breeding ground for both annoying and dangerous molds and microorganisms.
These bacteria, viruses, and molds can trigger reactions such as
- Headaches
- Fatigue
- Itchy eyes
- Allergies
- Asthma
- Colds
- Flu
While these reactions are annoying to anyone, they are particularly dangerous – and can even be fatal – for the most vulnerable of home inhabitants and visitors:
- Infants
- Young children
- Elderly
- Pets
No wonder that the Environmental Protection Agency lists indoor air quality as one of the top-five environmental health risks of our time!
Fortunately, an ultraviolet (UV) germicidal filter system can kill up to 87% of all airborne bacteria and up to 99.9% of all airborne mold spores. The filters are so effective against fungus, mold, bacteria, and viruses that hospitals, laboratories, and commercial kitchens use similar units for indoor air protection.
BFS recommends the Blue-Tube UV System for your indoor environment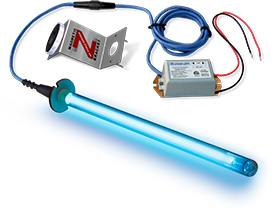 Blue-Tube UV is the single most popular UV light filter for cooling and heating systems in the world. Its low-voltage operation requires little energy, and an optional odor control element is available.
A UV Blue-Tube germicidal solution can help you affordably and effectively control the indoor air quality in your home using this low-energy, highly effective product.
If you suspect that your system isn't performing as well as it should, we recommend that you schedule a repair immediately so you don't end up suffering unnecessarily!
So whether you need to buy a new UV light filter or have your current unit serviced or repaired, contact us today to get a FREE estimate. Serving in 18 locations across Florida, Texas, Arizona and Nevada.