How Can You Go Green?
BFS gives you tips on how to save energy and reduce energy bills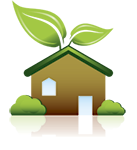 Many large and small efforts on your part can add up to tremendous savings on your annual home energy bills – and you'll save energy for the entire planet as well.
One of the best ideas is to replace old heating and cooling equipment with today's higher-rated SEER and AFUE systems. To learn more – and to see your estimated savings – try our free energy cost saving calculator now.
But you don't have to buy equipment to go green and save some green, too.
Check out our many energy saving tips for everyday and seasonal solutions for saving energy throughout your home.
The first step in going green, of course, is to get going. So please help BFS help you by reading these important pages of our website, and learn how to save energy and reduce your energy bills now!
BFS encourages all of our customers to go green.