BFS Home Warranty
Protect your family from high equipment repair and replacement costs
Consider the importance of your home's built-in appliances, heating and cooling systems, electrical systems, and plumbing systems.
Next, consider how much wear and tear the equipment experiences each day by turning on and off, and sometimes just running continually – and for outdoor systems, from everyday exposure to the elements.
Finally, consider both the likelihood of unexpected system failure at some point, and the significant money you will need to spend on repairs or replacement.
Now you know exactly why you need BFS Home Warranty protection.
Buy a BFS Home Warranty that will help you sleep comfortably at night.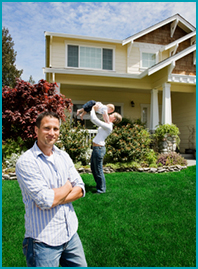 Our service contract is NOT the same as homeowner's insurance, which covers floods, fire, lightening, windstorms, riots, explosions, vandalism, and other violent acts of man and Mother Nature.
But our various coverage plans – which can even include swimming pools, spas, and clothes washers and dryers – will help ensure that you have peace of mind regarding inevitable and typical mechanical equipment breakdowns.
Please note that we do not cover pre-existing system problems.
Exciting benefits for home sellers and buyers!
Whether you are a professional Realtor® or a For Sale By Owner do-it-yourselfer, selling a home with certified home warranty protection can only help hold or even increase its value. And in a head-to-head competition with a similar home on the market, your service contract can help your home be the winner. Similarly, if you have just bought a new home, the comfort of our protection cannot be underestimated — much like the potential exposure to highly expensive repairs and replacements cannot be overestimated.
If you own or are selling a home, now is the time to buy BFS Home Warranty protection with a wide selection of affordable coverage options. Serving in 18 locations across Florida, Texas, Arizona and Nevada.