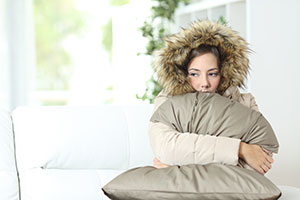 Posting Date: December 7, 2016
Posted by: John Barbato, Orlando/Daytona Beach Office Manager
You've probably experienced it before: you're in your house one chilly night and suddenly you realize your home heating system isn't working.
Don't worry, that's what Broward is here for!
But before you phone us for repairs, it pays to do a little detective work – it can potentially save you the cost of an unnecessary house call, and can give us some clues about what we'll be up against when we arrive.
If you lose your heat, please do these four things before you call for service:
Make sure you're not out of fuel. If you are, call for an emergency refill (if you own a propane-fired system, we'll have to run safety tests to get you back up and running first).
Check to see if all emergency valves or switches are in their "on" or "start" positions.
Check all fuses or circuit breakers associated with your heating system and replace or reset them if needed.
Set your thermostat to at least five degrees above the current room temperature, and that your system is set for "heat." If you own a forced air system and the fan doesn't start, it could mean that your burner isn't igniting. Only press the reset button once; if it does not reset, contact us for service.
If you take these four steps and your heat still doesn't work, let us know – we'll send a technician as quickly as possible to figure out what's wrong. And remember: If you sign up for a Broward Service Plan, you'll always get priority service.
Turn to the expert technicians at Broward for fast repairs done right! Contact us today for service on your heating system – or any other system in your home!