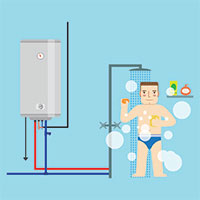 Posting Date: October 17, 2016
When it comes time to choose a new water heating system, there are many options available to you. Making a smart choice is important, considering the fact that nearly one-fifth of your annual energy bill comes from your water heater.
In this two-part series, we'll give you some basic information you'll need to make a smart choice on your water heater purchase.
To begin, here are five factors to consider when choosing a new water heater:
Water heater type

There are three broad categories of water heater from which you'll have to choose:

Conventional water heaters, which have a storage tank.
Tankless water heaters, where water is heated instantly on demand.
Tankless coil and indirect water heaters, which use your home heating system to warm water.

You'll need some guidance to choose among these types, but generally speaking:

Conventional water heaters cost less up front but are less efficient than tankless heaters, so your monthly bills will be higher.
Tankless heaters are more compact, so they're better for tight spaces.
Indirect water heaters require integration with your home heating system, so installation is more costly than conventional and tankless water heaters.

To learn what type of water heating system is best for you, contact us.

Fuel type – The fuel you use to heat your water will affect how much it costs – sometimes dramatically. Broward sells heaters that run with several kinds of fuel; more on that in our next post.
Size – You need enough heating capacity to meet your family's need for hot water, but not so much that you're heating water you won't use. Right-sizing a water heater can get tricky without help from a professional.
Energy efficiency – Right sizing, the efficiency rating of the water heater itself, and other factors – including (for conventional water heaters) heat loss when you're not actually using hot water (called standby heat loss) – all affect efficiency.
Total Cost of Ownership – Make sure you compare all factors that influence the true cost of a water heater – including cost of fuel, life expectancy of the unit, and more.
Whatever option you choose, it's a good idea to service your equipment regularly to keep it running at peek efficiency.
In our next post, we'll talk in more detail about water heater fueling options.
Contact Broward today for a FREE estimate on a new, high efficiency water heating system, or to sign up for a service plan to keep your current system running at its best.