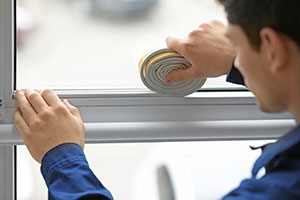 Posting Date: May 22, 2017
Posted by: Mike Barulic, West Palm Branch Manager
Your home heating system probably uses more energy than any other appliance or home comfort system in your home, so it pays to get the most out of appliances like your gas furnace as you possibly can.
Here are six ways to get the most out of your home gas furnace:
Weatherize – The amount of air that leaks from a typical home is about equal to leaving a window wide open (think about that next time you're trying to heat your home in the winter!). Investing just a few dollars caulking and weather stripping your windows and doors can have a dramatic affect on the air tightness of your home, which can lower your bills and take some of the strain off your home heating and cooling systems – including your gas furnace.
Use a programmable thermostat – One of the best home comfort investments is a programmable thermostat, which controls your indoor air temperature using a timer. By not running your gas furnace all-out all the time (when you're not home, for example), you can save wear and tear and reduce the likelihood of a costly repair.
Maintain your equipment – Routine annual maintenance keeps your gas furnace running better for longer, and helps technicians to spot small issues before they become bigger problems. If you haven't had maintenance for your furnace in the last year, spring is a great time to schedule an appointment.
Change filters regularly – Clogged filters can cause your equipment to overwork to keep your house warm, which causes unnecessary wear and tear on your furnace. Check filters according to manufacturer's recommendations – usually about once every two months (more if you have a dog or cat that sheds).
Replace single pane windows – If your budget allows, consider replacing single pane windows with Energy Star™ rated models. You'll have fewer drafts, which will take some of the pressure off your gas furnace.
Upgrade your furnace – If your gas furnace is 10 years old or more, it could have be as low as 55 percent efficient – a far cry from today's high efficiency gas furnaces, which can reach up to 96 percent efficiency. That kind of upgrade can pay for itself in as little as two years, depending on how much you use it.
Sign up today for an economical Broward Service Plan to keep your gas furnace running at its best – or upgrade you old home heating system to get the most for your fuel dollar! Contact us today for a FREE estimate!