Service Plans for HVAC and Appliance Repair

Your choice of two plans, so you can plan on lower residential equipment and energy costs
Thousands of BFS customers across the southern U.S. enroll in our Silver Plan or Gold Plan service and maintenance agreements.
Why? Because this important support helps our customers avoid expensive repairs or replacement emergencies by keeping all included equipment clean and fine-tuned.
By having us invest a small amount of our time maintaining your systems for an affordable price, you will both extend the life of your equipment as well as reduce your annual energy costs.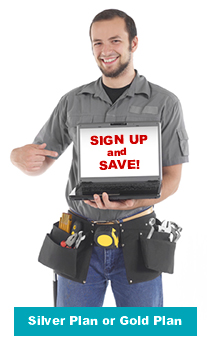 So we urge you to contact us to set up the Plan that works best for you. Avoid an inconvenient emergency or upsetting expense caused by home system failure by allowing BFS to keep your current equipment properly serviced.
Start saving on your HVAC and appliance service and repairs now – and on your annual energy costs.
Also ask about our home warranty protection service!
It's just one more way that BFS makes a difference by protecting your home comfort and energy expenses. Serving in 18 locations across Florida, Texas, Arizona, Georgia and Nevada.